Oded's latest ebook about the Art of Travel Photography.
Overview:
• 105 color images, some of them never before published.
• Includes practical photography techniques, tips, and an on-road daily workflow of a traveling photographer
• Case studies of some of my recent assignments for National Geographic Traveler Magazine
• Tips on photographing: people, markets, festivals, religious events, and everything that makes our world so wonderfull.

We will discuss:

• How to prepare for your trip
• Choosing the right equipment
• How to find the story you want to tell
• Exercises to get your creativity flowing
• Tools of the trade
• How to travel with others and much more.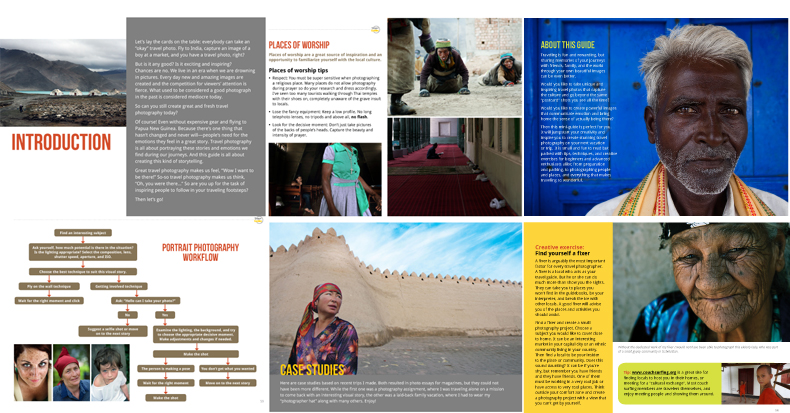 Testimonials:
"I recently purchased this ebook and really enjoyed it.  I downloaded it and immediately read it completely.  I am getting ready for a big trip to Italy and found many good suggestions.   This is not a 'how-to' take postcard shots.  It is much more than that.  I think the author sums it  up nicely when he talks about the type of photograph you want to take when you travel.  You  want the observer to say (and feel) "I want to be there" in contrast to "Oh, you were there". He offers many ideas on how to do this and backs it up with some beautiful photographic  examples. Will it profoundly change the way you do travel photography – probably not.  But I would bet  every time you are traveling with your camera and look at the LCD or through the viewfinder,  you will think of at least one of Oded's suggestions. Highly recommend this ebook – I think it is nicely done and well worth the purchase price.  Let's  face it, a guy that goes on assignment for National Geographic Travel must have some good  ideas about travel photography!" Larry.H.
—

"This book helped me to take fewer images than before, but now I feel that my images are much more significant. I can tell a story with my images!" Mike.R.
—
"For anyone preparing to travel or those who are planning a day excursion, these ebooks are a must read. The books are written in simple and easy to read and understand English that will help in the thought process that will assist you in coming home with great images. Oded has taken the time to distill the key elements of thought process one might consider before the picture taking. His suggestions of selecting the right equipment, research, and coming up with a game plan or lists are something most travellers do not do. I recommend these ebooks highly to those who are interested in making better photographs. I can identify with Oded's writing having done some travelling myself. He writes from his heart and personal experiences". Jimmy.H.
—